How do I create and export a loyalty points balance sheet?
If you want to export the loyalty points activity wise then you can export it easily via Activity report.

1. Login to AiTrillion and head over to the loyalty activity report under modules as shown below: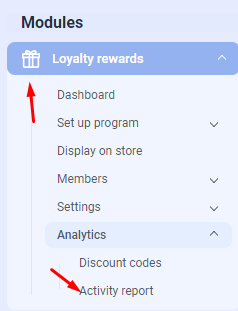 2. Click on the export monthly points balance button

3. Choose your options and hit save.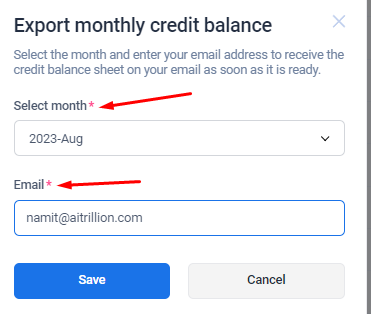 4. The exported report will come to the email you have provided and looks like the below:


Related Articles

How to export Loyalty Points

You can now export Loyalty Points of your eCommerce store easily to CSV files. The ability to import and export loyalty points is useful if, for example, you want to move program or promotion data from the development to the production environment. ...

How to set up Loyalty Redeem Points?

Rewards are a part of AiTrillion' s loyalty system and can be setup to help your customers have more than one option for redeeming their loyalty points. This can be a great way for customers to get more value from their loyalty program! Video: ...

How to manually adjust Customer's Loyalty Points

Add or remove points manually from any member of the store. If you would like to adjust a specific customer's points balance, then follow this setup guide. qStep 1. Login to AiTrillion. Step 2. Under Loyalty Rewards go to Members >> All Members / ...

Give Loyalty Points when Customers follow you On Social Media

Give points to your customers when they follow your brand on social media. This follow helps immensely by generating social referral traffic to your store. Step 1. Login to AiTrillion. Step 2. Go to Loyalty Rewards > Set up program > Earn Points. ...

How to setup Gift Code in Loyalty Earn Points

Introduction Now, you can earn customer's loyalty easily by offering gift codes! You can reward your customers on the basis of their purchase actions on your eCommerce store. It encourages your customers to make repeat purchase as they are rewarded ...