How to create a Customer Group Based on Shopify Customer tags
You can segment your customers into groups, based on tags, and send them a personalized message.
Step 1. Log into AiTrillion and head to the customers section.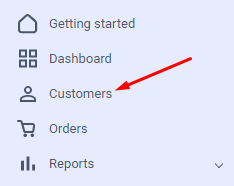 Once there click on add filter and choose the customer tag option

Fill in the details for the filter and then click on the apply filter button.
Note: Please select Contains. Because a customer could have multiple tags.
Once you have your filtered results, click on the save segment button.
Give the segment a name and hit save
Step 2. Now head over to create campaigns in email marketing and choose your created segment under the target audience area. Remember to hit save after you select your segment.
You can now create and send your campaign to this segment of customers with a certain customer tag.
Related Articles

How to create lists to group Customers

You can create and import various static lists of customers in AiTrillion. This a step-by-step guide for creating lists to group Customers. Step 1. Log into AiTrillion. Step 2. Go to Email Marketing > Audience > List Step 3. Click on Create New List ...

How to give loyalty points based on tags

1. Login to AiTrillion. 2. Head over to Loyalty Rewards > Setup Program > Earn Points 3. Click on the activity that says 'On Customer Tag' 4. Configure the settings as per your requirements. Remember the points on tag will be alotted only if the ...

How To Create Customer Directly In Shopify Store?

A Wholesale & Registration form has a feature to create your customer after your approval in the Shopify store but If you also want to create customer directly without having any approval like other form in the app. Please follow the Instruction ...

View Customer Tags

Follow the steps below to view customer tags: Step 1. Log in to AiTrillion. Step 2. Go to Customer Insights. Step 3.Click on the Timeline for the customer whose tags you want to see. Step 4. A new screen will open where you will be able to see the ...

How to create a Customer Segment to send Emails

Increase the relevancy of your marketing campaign by sending email messages based on the dynamic customer segments. Create segments and then use them in email campaigns and workflows alike. Step 1. Login to AiTrillion. Step 2. Go to Customers from ...