How to enable / disable Activity Rules for Loyalty Program
The module facilitates you to manage the loyalty rewards of your store as per the customers' activity. You can enable or disable any earn points rules from the loyalty panel.
Step 1. Login to AiTrillion.
Step 2. Go to Loyalty Rewards > Set up program and then navigate to the Earn Points.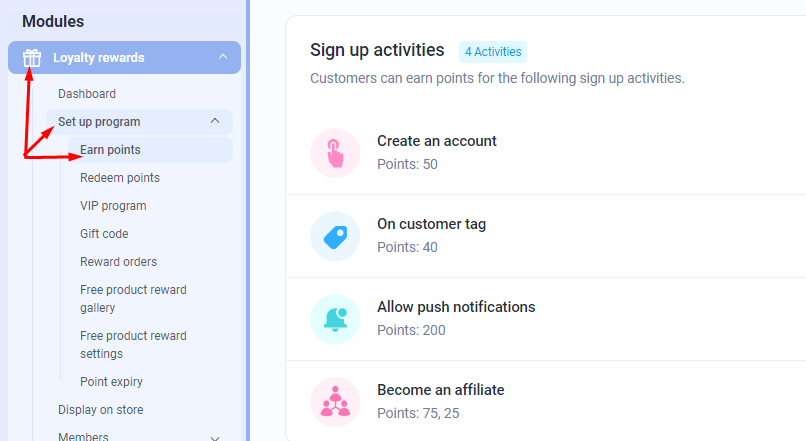 Step 3. Click on the buttons (as per the screenshot) to enable and disable the activity rules.
Related Articles

How to setup Earn Points Rules for your Loyalty Program

If you are a member of a loyalty program on an e-commerce website, you can earn points by making purchases, referring friends, or engaging with the website in other ways. These points can then be redeemed for rewards or discounts on future purchases, ...

Enable/Disable Web Push Notifications

AiTrillion offers multiple types of push notifications to send to your customers. These are great at getting the message across and can be received on a phone or a computer. Link these to the Loyalty system and offer points to push subscribers. ...

Enable Disable Announcement Bar

Step 1. Log in to the AiTrillion. Step 2. Go to the Announcement Bar > Dashboard. Step 3. From here, you can enable or disable the announcement bar module. Also, you can enable and disable it from the module settings. Step 5. Go to Module Settings. ...

Enable / Disable Smart Popup

E-commerce popups are small, customizable windows that can be added to an e-commerce website to display information or promote a product or service. Login to AiTrillion. Then go to Smart Popups > Dashboard. Then click on view all in the active popups ...

How can customers earn points on the AiTrillion Loyalty Program?

Customers can earn points on the AiTrillion loyalty program by making purchases, referring friends, following on social media, leaving a review and more. To earn points on a loyalty program, customers will need to be members of the program and have ...