Step 1. Log into AiTrillion.
Step 2. Go to Email Marketing > Audience > Custom Fields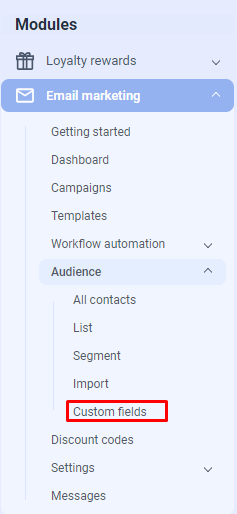 Step 3. Click on the Create button ( top-right corner of the screen).
Step 4 . Now, write a name or label of the field, select the type (data type which can be added under this field), and then select the Group to which this field belongs. Once done, click on the Save button .
All the created fields can be viewed or edited from the custom field main area. You can edit and/or delete fields from here.
Where to use a custom field?
When importing a customer or contacts CSV file, these created custom fields can be used for mapping the columns or headers. For guidance on importing customer CSV files Click Here .