SMS templates for Shopify Stores
Start sending SMS from AiTrillion using SMS templates!
AiTrillion offers a huge range of pre-madeSMS templates for you to use.

Some of these include:
Templates for Memorial day and Memorial weekend.
Templates for early bird accesses, trending sales and live shopping events.
Templates for flash sales, weekend sales, crowd favorites and live shopping events.
Templates for abandoned carts and incentives on next purchase.
Templates for BFCM, holiday events and so much more!
Incase you need a template that is not available, click on the create button to make your own template.

Type in the data you need and check the preview, to see how it would potentially appear on a mobile screen.
Once you click on save, you would see a popup similar to the image below: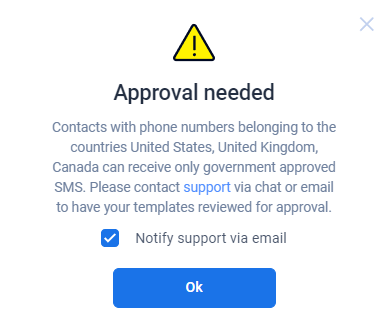 Click Ok and remember to checkmark the notify support box.
Related Articles

Setup SMS Automation

SMS marketing automation enables eCommerce stores to improve customer engagement and boost sales through personalized text messages triggered by various events. This article will provide you with an overview of all the SMS automation features ...

How to boost Shopify sales with powerful workflows of email marketing automation, SMS, and Web push notifications in AiTrillion

Email marketing automation, SMS, and web push notifications are powerful tools for boosting e-commerce sales on Shopify. When used effectively, these workflows can help you reach and engage your audience, nurture leads, and drive conversions. In this ...

Send mass SMS campaign

Use manual SMS Marketing to engage with your customers when they are not in store. Send offers, events registrations and product campaigns directly on phones with AiTrillion's SMS Marketing.1. In the SMS marketing module, head over to campaigns and ...

Shopify App Setting After Changing Theme

In Shopify, when an app is installed, a code is auto-injected in the theme file which needs to be added again after changing the theme. Below are some steps which will help you add the code manually: Step 1. Edit the theme in which you want to set up ...

Create a Segment for SMS Marketing

Use your existing shopify customer information to send them SMS using AiTrillion SMS Marketing. 1. Click on the + icon in the segments area of SMS marketing to be taken to the create a segment area. You can also click on Segments and then on create ...