Trending products can be displayed on the homepage, in the navigation menu, or in a dedicated section of the website, and they can help customers to see which products are currently in demand and popular on the website.
Step 1. Login to AiTrillion and head over to Product Recommendations> Trending Products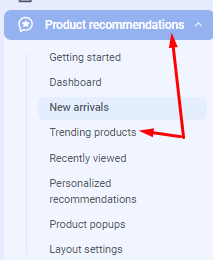 Step 2. Make your settings in the screen that appears, choose the page(s) you want to display trending product recommendations on, and click save / update. Ensure that the flick switch is set to the 'On' Position.
Step 3. If you want to show your trending product recommendations in a custom place or on a custom page, feel free to copy and paste this code where you want the recommendations to appear.