A question and answer (Q&A) section on a product page is a feature that allows customers to ask questions about the product and get answers from the store owner or other customers. AiTrillion gives you this facility AND more with its Q&A Section!
Step 1. Login to AiTrillion.
Step 2. Go to Product Reviews > Question/Answer > Question & Answer List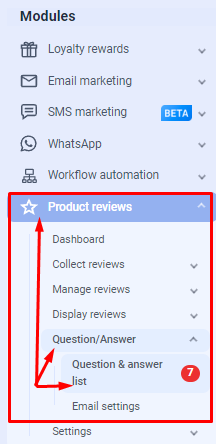 Step 3. Turn on the Question-Answer option as shown in the given screenshot. You can also select a person responsible for replying to all of the questions. Then click on the Save button to save the settings.
Step 4. Once this feature is enabled, under the product details on \your store, you will find an option to Ask a question and Write a review.
Your customers can click on ask a question and you can reply from the AiTrillion system. The person replying can choose to notify the customer of the reply, by email as well.
Learn more about how you can notify customers of replies to their questions .


We can import questions and answers from your existing software from the backend but this may require custom dev hours. Please speak to our support team for Q&A Import. You can speak to them by emailing
support@aitrillion.com
or schedule a call on
www.aitrillion.com/support
Need Help?
Live chat with AiTrillion Support now from our website or inside the AiTrillion app. You can also email us at support@aitrillion.com or schedule a call on www.aitrillion.com/support