Step 1. Login to AiTrillion.
Step 2. Go to Smart Popups > Create New > Newsletter Popup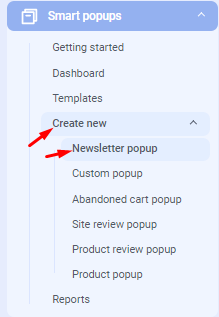 Step 3. Click on Create on the top right corner of the screen. This will then redirect you to the Popup Templates page where you can select a popup template of your choice.

Step 4. Click on Use Now button for a template you want to use.
A popup will appear, where you can enter the name of the newsletter popup you want to make. This is especially useful if you are using multiple popups on multiple pages with the same or different behavioural strategies.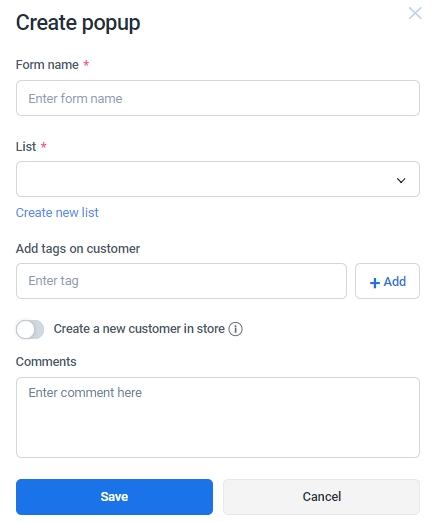 If you want to give loyalty points to people subscribing for a newsletter, or for whatever reason you want to tag all signups on this newsletter, choose to add a tag on the customer and create the customer on store.


If You choose to add the tag, remember to create the customer on store. If you do not select this option and the customer / email id does not pre-exist on the store, then no tags will be added. Additionally, if the customer already exists on the store the tag will be added even if the create customer option is not enabled.
CUSTOMIZATION OPTIONS
In the edit mode, you can customize the popup in many different ways. The options include:
1. Design: Design the popup by changing text, font-styles, popup positioning, button colors, button text, and many other options that completely change the look and feel of your newsletter popup. You can also change the template of the popup by choosing a pre-existing template from the dropdown. These could be one's that you have created or one of AiTrillion's free templates!
2. Field: This option allows you to customize the fields in your newsletter popup. Most people choose the email option only since it is faster and allows for a quick entry, however, you can ask customers for other options and choose to make them optional or a compulsion.
3. Content: Using the content tab you can control what content your popup will contain and display to your customer. For example, you can change the image your popup has or the text to close the popup and more. You can also use the signup success message tab, to provide an instant discount code once a newsletter is subscribed to (In the event you are not using a welcome email)
4. Behaviour: The behaviour tab controls how your popup will appear, when it will appear and where. This tab also allows you to embed the popup anywhere on your site.
Step 4. Remember to save your settings as you go along and also to turn on the popup if it is not on already.