Process:
Customers can be imported via CSV file. Following are the steps to import customers.
Remember we do not permit cold emailing, so the customers you are importing must be related to you in some way. e.g. retail store customers, prospective customers who visited your stall in a show and filled out a form, etc.
Step 1. Login to AiTrillion.
Step 2. Go to Email Marketing > Audience > Import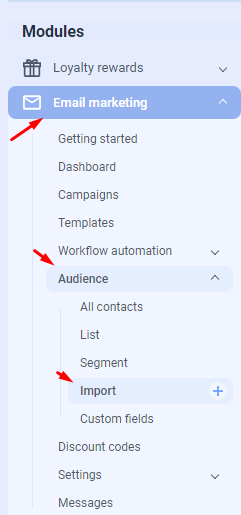 Step 3. Click on the Upload CSV button on the top-right corner of the screen.
To import a CSV you have to follow a few steps outlined below-
A. Import contacts and enter the required details. After following the instructions click on the NEXT button to proceed.
B. Map the columns available in the CSV file and click on the Next button to proceed. Note: File columns can be customized for mapping using Custom Fields. For guidance Click Here.
C. Now add the contacts to an existing list or create a new list. Then, click on the Next button to proceed.
D. Review all the entered details. If any detail needs to be edited then click on the Back button and modify the detail step-wise. After completing the process, click on the Finish button.
Note: If you want to receive an email on import process completion then enter your email.