Use this article to learn how to use the AiTrillion Automatic Discount code Generator.
Step 1. Login to AiTrillion.
Step 2. Go to Email Marketing > Discount Codes.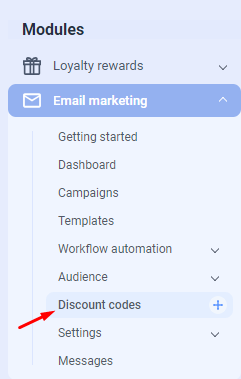 Step 3. Click on Create in the top right corner.
Step 4. Make your settings and setup restrictions as needed and click on the Add Coupon button in the bottom left. This has now created your placeholder.
Step 5. Go back to the Discounts code screen. Click here to be taken to it. Click on the three dots and then on Add Codes to add the total number of codes for this placeholder.
Step 6. Input the number and click on the Submit button.
Note: It will take time (2-3 minutes) to generate the discount codes. You can check the number by refreshing the page.
Created codes will be visible in the Shopify Discount section too:
If you wish to use these codes in an email message click here to learn how to use the discount code in the old editor and click here to learn how to use the discount codes in the new editor.