This is a step-by-step guide to fine-tune your product recommendations layout and display and make the system blend seamlessly with your Shopify store.
Step 1:- Login to AiTrillion and head over to Product Recommendations > Layout Settings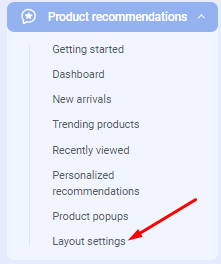 .
Step 2:- You can then customize the layout and heading settings for the AiTrillion Product Recommendation tool.
Step 3:- Moving on, you can also setup product-based settings for Text, Price, and Buy Button display.
Remember to keep checking the preview on the right side of the screen.
Step 4:- You can also set up the product card settings. These settings govern how the product blocks look in the carousel displays, how the images appear and if the display does or does not adapt to changes in products and their images.
Important points to remember here are:
1. Image Ratio: This feature helps you adjust the image appearance in such a way that the entire carousel blends in with the rest of your site. You can choose from adapt to image, portrait and square image settings. Remember the adapt option may crop your image so try all and choose what works best for you.
2. Number of Columns on mobile: This feature from AiTrillion, helps you adjust how many columns you want in the carousels when viewed on a smaller screen device like a mobile or a handheld phone.
3. Space Between product blocks: Use these configuration options to set padding between product blocks and on the top and bottom of the carousel as well.
Step 5:- Once done, you can also choose to customize the recommendation section width, include or exclude out-of-stock products in the recommendations and you can also choose to hide products with a certain tag, from the recommendations system.
When you have finished making your choices, click Save / Update.