Step 1:- Login to AiTrillion and navigate to Email Marketing > Messages.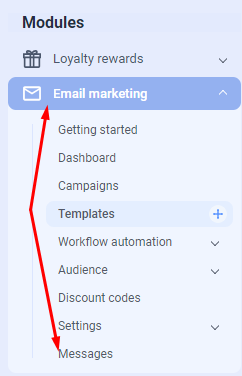 Step 2:- Click on the Edit button to edit the existing message. If you want to create a new message then click on the Create button.
Here is the link to learn how to create a new email message:- https://www.aitrillion.com/knowledgebase/create-customized-messages
Step 3:- Mouse over the email body and click on the 'Add Block' option as shown below in the screenshot.
Step 4:- Now, select the area where you want to place the shop logo and then click on the Shop Logo block. This will add your logo to the message.
Note: A logo can only be added if it pre-exists in the AiTrillion system. To learn more about adding a logo, click here
Step 5:- Click on Save Changes.
Step 6:- Feel free to send a test message to ensure your settings work.
Step 7:- Once done, click on Save changes to continue making edits or Save and Close to close out of the email editing area.