Set up a VIP program based on the loyalty points earned by customers and provide them with additional benefits. Here is a step-to-step guide for the setup of the VIP Program (Tier System).
Step 1. Login to AiTrillion.
Step 2. Go to Loyalty Rewards > Setup Program > Vip Program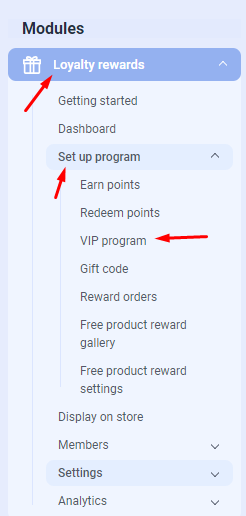 Step 3. Ensure that the program is turned on.

Step 4. Enter all necessary details in the milestone settings. Remember to Save!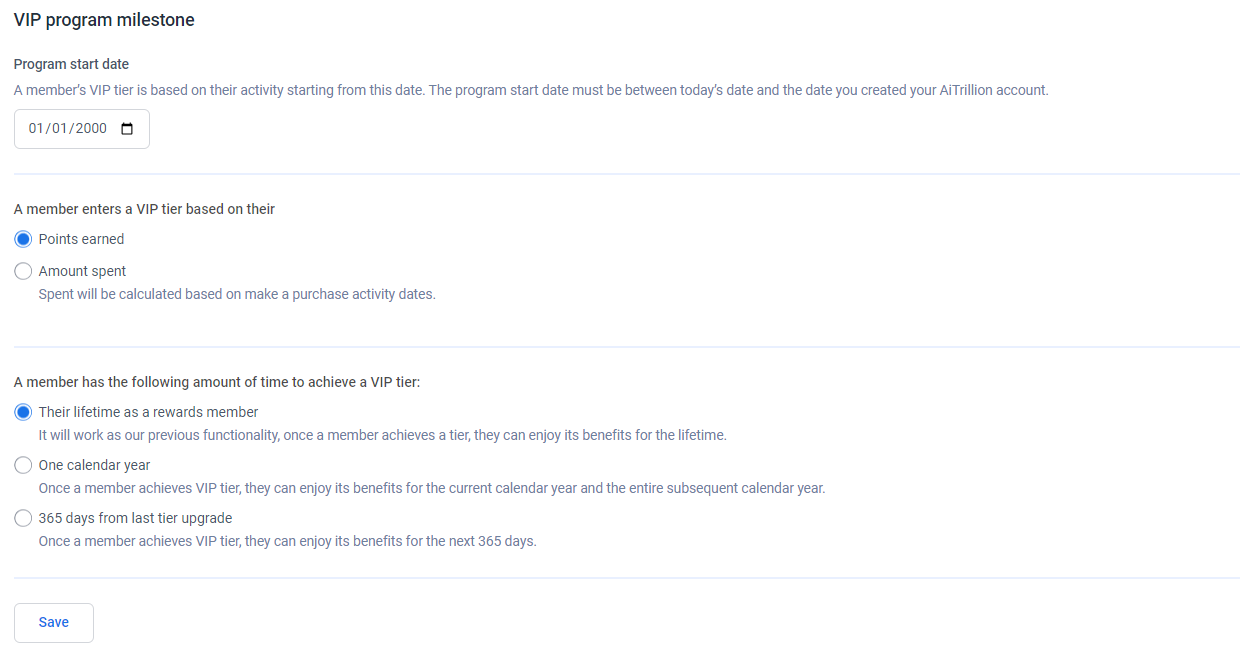 Program Start Date: This is the date when you have started the VIP Tiers program. This is also the date that shall be used as a base for the calculation of transaction as a part of the loyalty tier system.

VIP Tier Entry >> Points Earned:

A revenue-based milestone for entry into a loyalty tier that will use the total money a customer has spent with your store (in a given time period) to your calculate your customer's tier eligibility.


Note: This milestone selection will only calculate revenue accrued on AiTrillion's Make a purchase activity
VIP Tier Entry >> Amount Spent: A points-based milestone will use the total points a customer has earned with your store in a given time period, to calculate your customers' tier eligibility.

Milestone Period Eligibility:

Lifetime : Selecting this option will allow customers to enjoy the benefits of the tier they are in for as long as they want. The only thing that changes this is an upgrade into a new tier.
Calendar year:
A calendar year milestone will use all of your customer's activities within one calendar year to determine their VIP tier for that year and the following calendar year. e.g. A customer earns enough points to reach your gold tier in November of 2023. They will enjoy the benefits of your gold tier for the rest of that year and all of 2024. During 2024, they'll have to earn enough points to re-qualify for your gold tier in 2025. If they do not, their tier will be recalculated based on the points that they have earned. This type of VIP tier milestone period is great when:
Your customers make more than 1-2 purchases a year
You want to increase your repeat purchase rate
You want to decrease the time between repeat purchases
You want to increase your average order value

If you chose the Calendar year method - the start date setting will only work for you if you choose a date from the current calendar year. If it's currently March 2023, and you set your start date as November 1, 2021 - then the actual program start date is going to be Jan 1, 2023. If it's currently March 2023, and you set your start date as February 1, 2023 - then the actual program start date will be February 1, 2023.
365 days from last tier
upgrade: A customer will stay in a tier for atleast 365 days from their last tier upgrade date, after 365 days we will re-calculate the points/spents made int past 356 days and based points/spends we will assign them to tier. e.g.
If a customer enters a tier on 1 March 2023 then they will alteast stay in this tier till 31 March 2024.
Step 5. After you have setup the general settings in point 4, click the create button on the top of this page to create the tier.


Step 6. Make your choice of settings in the sections below and click create when done.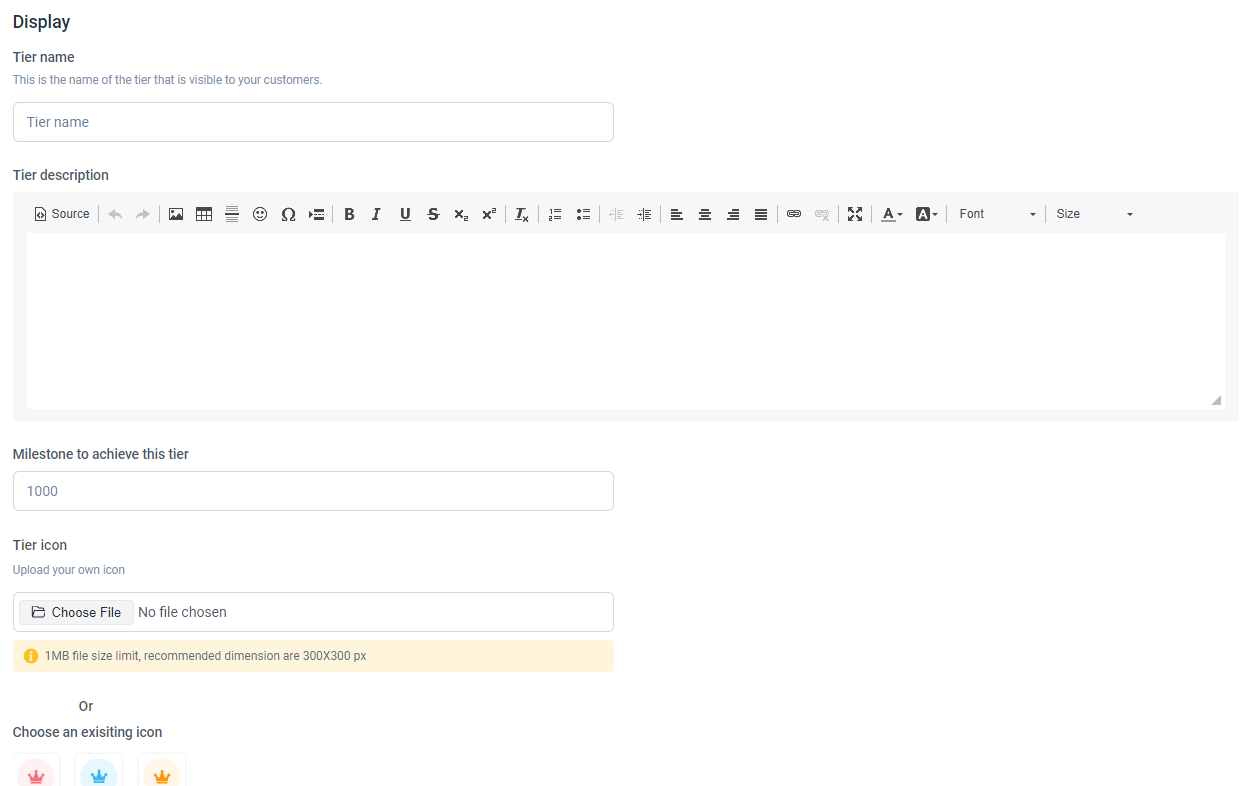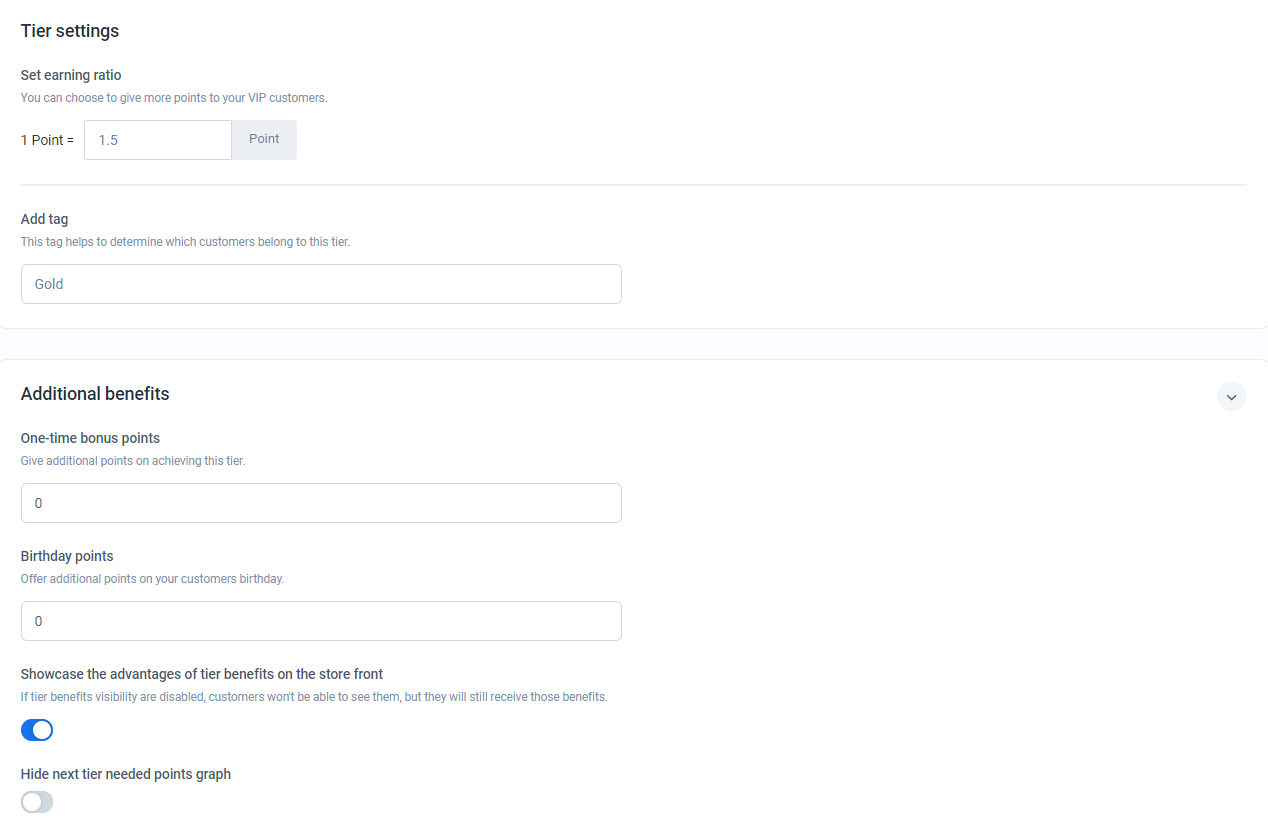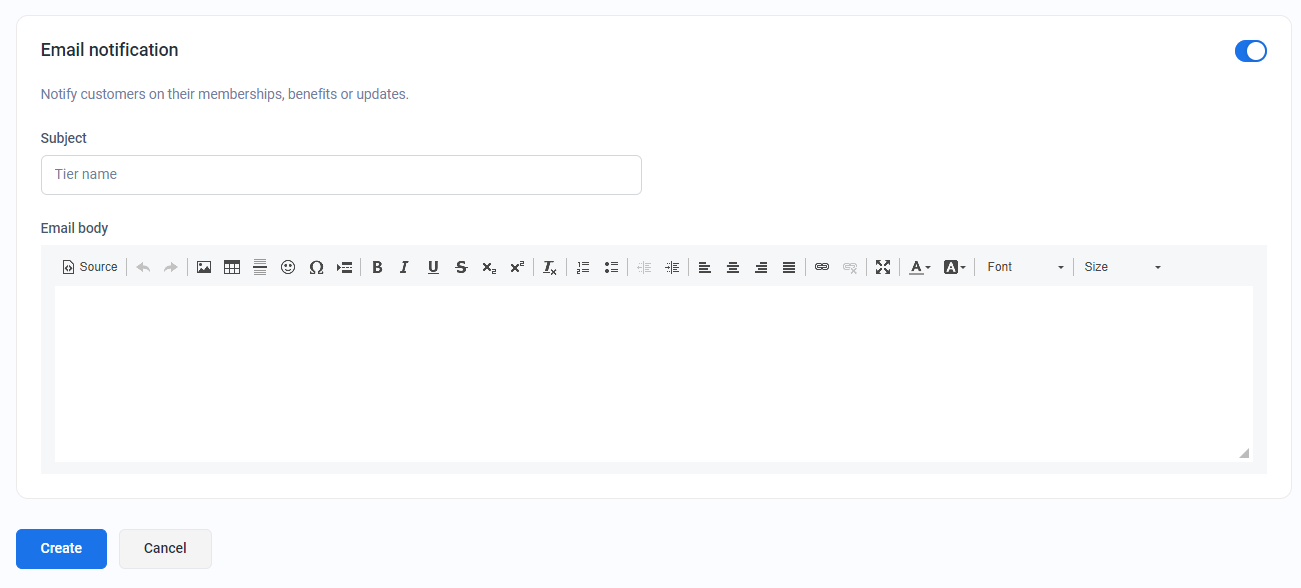 You can create more customer tiers by repeating the above steps as per your requirements.
Need Help?
Please feel free to book a meeting with us from www.aitrillion.com or email support@aitrillion.com