This is a step-to-step guide for the setup of AiTrillion Personalised Product Recommendations (Erstwhile Related Products) for your Shopify store.
Step 1. Login to AiTrillion and head over to Product Recommendations> Personalised Recommendations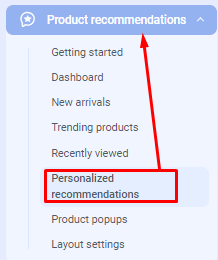 Step 2. Personalised product recommendations, has settings for 4 different widgets. You can choose to use one or all, and on the basis of the choice you have made, you need to integrate the widget of your choice with your site as well.
These revolutionary recommendations include:
1. Related Products: Recommends products that are related to the product being ordered.
2. Past Purchases: Uses the customer's purchase history of the last 10 purchases
3. Recently Viewed: Recommends products based on the last 10 items that were recently viewed.
4. Cart Addition: Recommends products based on the items currently added to cart.
These recommendations are new and revolutionary in nature, as we are able to provide these recommendations to logged-in users AND to a normal visitor who has previously been on / purchased from your site
Do remember to do the product relation settings too! Product Relation Settings include:
Same collection: To show other products from the same collection.
Same product type: To show other products from the same product type.
Same vendor: To show other products from the same vendor.
Same tags: To show other products with the same tag

Note: If you will enable all, then it will show the product based on the priority
Step 4. If you want to show your personalised product recommendations in a custom place or on a custom page, feel free to copy and paste this code where you want the recommendations to appear.
Note: For Modern themes that support App Blocks, you can use the relevant block instead of trying to copy and paste code.
If you need help with this, contact our support team on www.aitrillion.com/support or support@aitrillion.com