How to give loyalty points based on tags
1. Login to AiTrillion.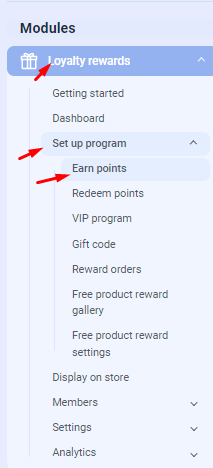 3. Click on the activity that says 'On Customer Tag'

4. Configure the settings as per your requirements. Remember the points on tag will be alotted only if the customer profile on shopify contains that tag.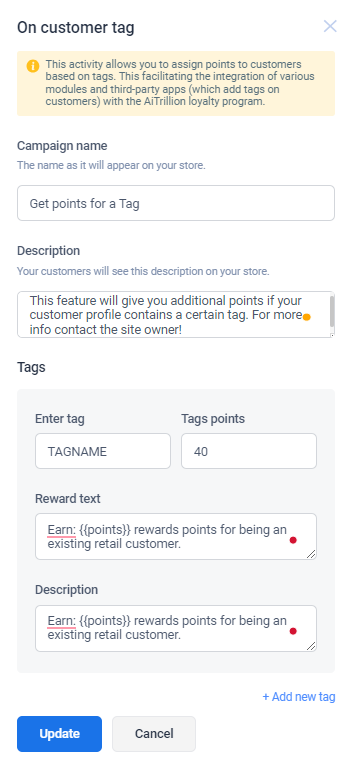 5. To assign more than 1 tag, click the add new tag link.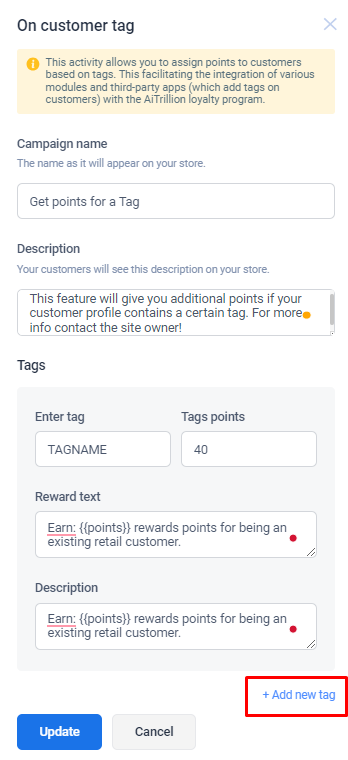 6. When done click save / update. Also ensure that this feature is turned on in the loyalty menu.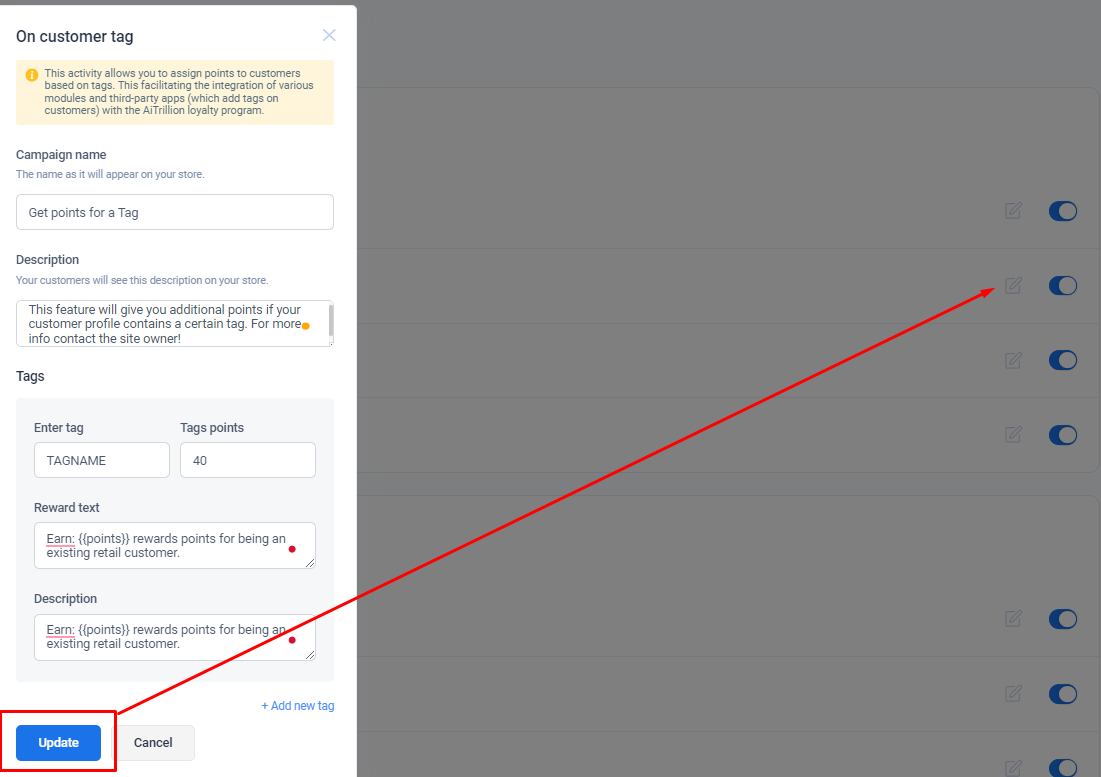 This feature can also be used to give points for tags from third party applications.
Related Articles

Give Loyalty Points when Customers follow you On Social Media

Give points to your customers when they follow your brand on social media. This follow helps immensely by generating social referral traffic to your store. Step 1. Login to AiTrillion. Step 2. Go to Loyalty Rewards > Set up program > Earn Points. ...

Give Loyalty Points To Customers On Product Review

Increase repeat purchases and customer lifetime value with AiTrillion loyalty points that give customers more reasons to buy from the store. Encourage them to write product reviews and incentivize the same with loyalty points. Step 1. Login to ...

How to set Approval Period of Loyalty Points on Make a Purchase Activity

This feature allows the AiTrillion system to give loyalty points to the customer after a specified period, so as to protect your store from unfair practices. E.g. A customer quickly redeems their points and then returns the order for a refund. Step ...

How to create a Customer Group Based on Shopify Customer tags

You can segment your customers into groups, based on tags, and send them a personalized message. Step 1. Log into AiTrillion and head to the customers section. Once there click on add filter and choose the customer tag option Fill in the details for ...

How to give loyalty points on newsletter signup and customer tag?

1. Login to AiTrillion. 2. Head over to Loyalty Rewards > Setup Program > Earn Points 3. Click on the activity that says 'On Customer Tag' 4. Enter the tag you configured on the newsletter signup page. Click here to learn more. 5. When done click ...