📱 From Web to Mobile Apps: Your loyalty program doesn't stop at your website anymore. With AiTrillion's APIs, your loyalty perks seamlessly extend to your mobile app, ensuring your customers enjoy rewards, tiers, and engagement no matter where they shop.
🎨 Customization, Elevated: Tailor your loyalty popup's design to harmonize perfectly with your app's look. Consistency across devices has never been this elegant or effortless.
🛍️ Hydrogen Framework Harmony: Calling all Shopify Hydrogen framework users! Our loyalty popup slides right into your framework, ensuring smooth integration and a frictionless experience.
🚀 Welcoming All App Providers: Attention, Shopify mobile app providers! You can now effortlessly integrate AiTrillion's robust loyalty program into your apps, empowering your clients with seamless customer engagement possibilities.

🌐 Universal Integration: Presenting AiTrillion's RESTful APIs – the bridge that connects your customer, order, product, and loyalty data with our system. No more limitations – this is your ticket to sync data seamlessly and effortlessly.
🛒 POS Freedom & Custom POS Compatibility: We're breaking free from boundaries. While our loyalty program was once exclusively linked with Shopify POS, our APIs are here to break the mold. Now, Our APIs allow you to effortlessly integrate AiTrillion's Loyalty program with your unique POS system, enabling data sync, point earning, and redemption capabilities that align perfectly with your brand.
📈
Universal Data Access
: But wait, there's more! These APIs aren't just about loyalty integration. They're a versatile tool that empowers you to access customer, loyalty, email marketing list, reviews, product recommendation, order and many more data universally. Seamlessly connect and utilize this data for your business needs, enhancing your operations and strategies.

Embrace the future of loyalty programs with AiTrillion's Front Store REST APIs. A loyalty experience that transcends devices and frameworks, unlocking new dimensions of customer engagement. Ready to break the mold? Explore the possibilities today!"
To use the API system for AiTrillion Loyalty, follow the steps below: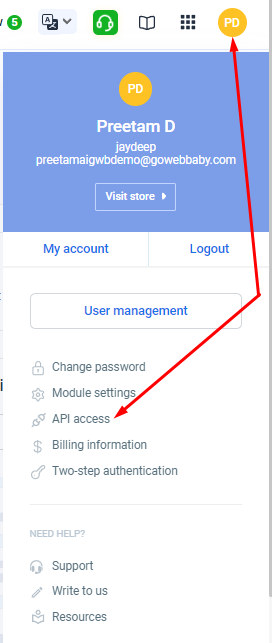 2. In the screen that pops up, your developers can setup server side API, and front store API as well for the AiTrillion system.