How to I configure the global / general settings in AiTrillion Membership
1. Head over to the membership section in your AiTrillion navigation panel.

2. In the membership module, head over to settings.


3. The first tab in the global settings area is for general settings. Here you can configure the messaging (with or without graphics) for the pages that are blocked as 'members only' areas. You can also setup your timezone and setup an option where you can allow / disallow customers to cancel their membership on their own.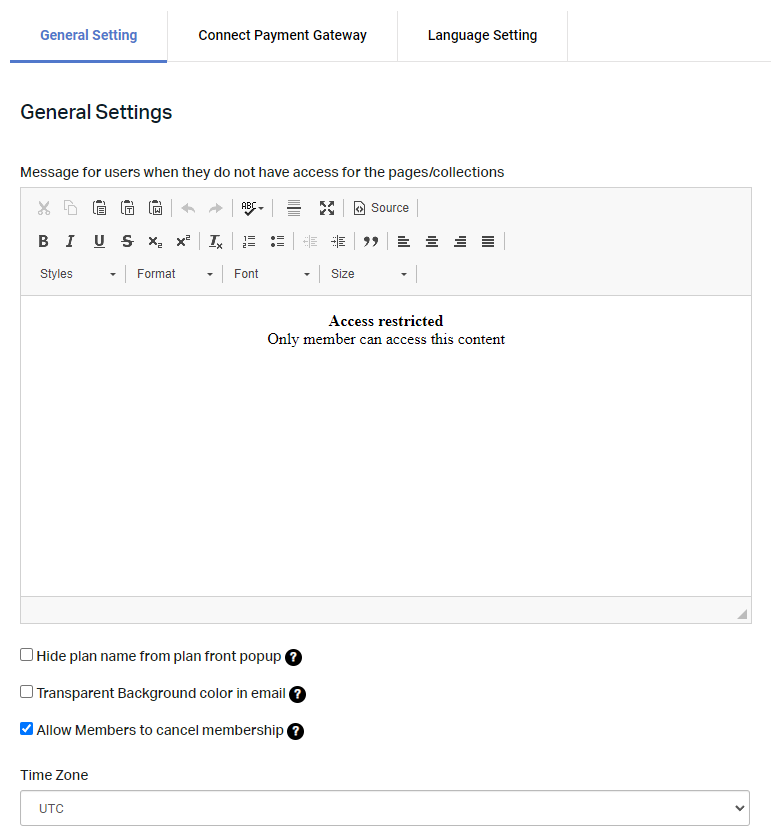 5. Last but not the least, the Language Settings tab allows you to rename almost every field of AiTrillion membership to your local language. e.g. the field is called discount but your site is in French, you would simply type Rabais / Escompte in that field. When done with all settings remember to Save / Update.


Related Articles

AiTrillion Live Chat Settings

Use this document to learn more about how you can set up AiTrillion live chat and fine-tune it to do exactly what you want, word to word. Follow the steps below to customize the settings for the Live Chat. Step 1. Log into AiTrillion. Go to Live Chat ...

How To Migrate To AiTrillion From Membership App

AiTrillion introduced the Membership feature in it. If you are using the Recurring Membership app in your Shopify store then you can easily migrate the data to AiTrillion and uninstall the Membership app. So no need to install 2 separate apps. Since ...

How to set thank you page url in AiTrillion Membership?

1. Log in to AiTrillion and in the modules section click on Membership 2. Under membership, navigate to the plan you have created, and click on edit. 3. Set your Thank You Page URL in the Box as illustrated under Settings and Plan Settings:

How to Change the Reply to email in AiTrillion Membership

It is often asked if there was a way in AiTrillion Membership Program to have a different Sender email id and a different reply to email id. Well, there is. Follow the steps below to set this up! 1. Log into AiTrillion and access the Membership ...