How to create Campaign Type
Create different email campaigns to reach your customers. This is a step-to-step guide for creating campaign types.
Step 1. Login to AiTrillion.
Step 2. Go to Email Marketing > Settings > Campaign Type from the navigation menu.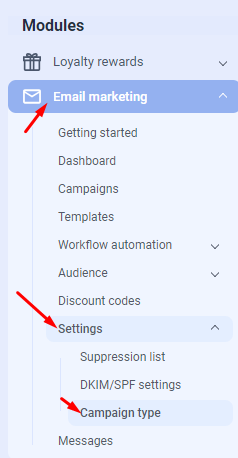 Step 3. On the top of your create campaign type screen, enter a name for a campaign type and click on create.
Once created, you can view and edit your campaign type on the same create campaign type screen.
Here are some name types you can use:
Newsletter: A newsletter that goes out to all or opt-in customers at prespecified intervals, but usually a month.
Marketing Offers: A response-driven campaign where the crux is to obtain a result. E.g. a 4th of July campaign encouraging people to buy American Flags etc
Announcement: This is a campaign used to make an announcement which could be the latest additions, trending products, company mergers, etc.
Discount: A campaign to offer a discount or promotion.
Update: A campaign used to send product or site updates.
Related Articles

Send mass SMS campaign

Use manual SMS Marketing to engage with your customers when they are not in store. Send offers, events registrations and product campaigns directly on phones with AiTrillion's SMS Marketing.1. In the SMS marketing module, head over to campaigns and ...

Send A Mass Web Push Notifications Campaign To Subscribers

Send a web push notification campaign to all your subscribers easily even if they are not in front of your website. This will deliver directly in their mobile/desktop browser. Step 1. Login to AiTrillion and then go to Web Push > Campaigns > Create ...

How To Create Affiliate Program

Step 1. Login To AiTrillion . Step 2. Go to Affiliate Program > Manage Programs . Step 3. Click on the Create Program button in the top right corner. Step 4. Fill the details in the form: Program Name – Give the name of the program. Status – Mark the ...

How to create Custom Fields

Custom fields are the additional fields you need in the platform and are used for mapping the CSV file headers you are importing. Step 1. Log into AiTrillion. Step 2. Go to Email Marketing > Audience > Custom Fields Step 3. Click on the Create button ...

Create a Segment for SMS Marketing

Use your existing shopify customer information to send them SMS using AiTrillion SMS Marketing. 1. Click on the + icon in the segments area of SMS marketing to be taken to the create a segment area. You can also click on Segments and then on create ...