Countries Supported by AiTrillion SMS Marketing
All the below countries are supported by AiTrillion SMS marketing
Supported countries include: USA, Canada, UK, and South Africa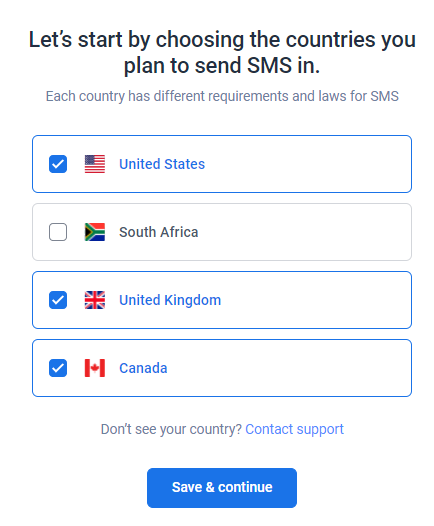 Related Articles

Upload a CSV for SMS Marketing

You can now upload a CSV of contacts for SMS Marketing with AiTrillion. You can now upload a CSV of contacts for use with SMS Marketing. Two important things to remember are: 1. All contacts must have complete phone numbers with country code and must ...

Create a Segment for SMS Marketing

Use your existing shopify customer information to send them SMS using AiTrillion SMS Marketing. 1. Click on the + icon in the segments area of SMS marketing to be taken to the create a segment area. You can also click on Segments and then on create ...

Send mass SMS campaign

Use manual SMS Marketing to engage with your customers when they are not in store. Send offers, events registrations and product campaigns directly on phones with AiTrillion's SMS Marketing.1. In the SMS marketing module, head over to campaigns and ...

Send SMS notifications using Workflow Automation

Send SMS messages automatically as a part of the AiTrillion Workflow Automation Note: To learn how to create workflow automation manually or to use a pre-created template check out this basic's article: The Basics of Multichannel Workflow Automation ...

How to boost Shopify sales with powerful workflows of email marketing automation, SMS, and Web push notifications in AiTrillion

Email marketing automation, SMS, and web push notifications are powerful tools for boosting e-commerce sales on Shopify. When used effectively, these workflows can help you reach and engage your audience, nurture leads, and drive conversions. In this ...